Borescope Inspections Services from RVI Ltd
A video borescope inspection carried out by RVI Ltd is a full health check of the singularly most expensive component attached to your aircraft  – The Engine.
This inspection highlights the visible defects ensuring your asset is in a condition worthy of sale or purchase, lease or continued service.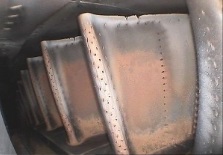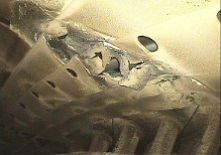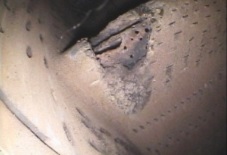 We carry out these inspections according to your requirements but always under the strict guidance and limits laid down in the current aircraft maintenance manual.
Our main asset is our impartiality, we are totally independent and are not swayed by the commercial pressures to "keep the engine on wing at all costs" or equally "pull the engine and pass on the costs!!".
If after our inspection the engine is serviceable we will issue the industry recognised certificate, an "EASA Dual Release Form 1" certifying your engine's continued serviceability. The video recording (DVD) of the inspection provides a comprehensive record of the health of the engine gas path at a fixed point in time.
Much of our work in this field is for Leasing Companies, Airlines and Maintenance Organisations performing pre-purchase, lease return and scheduled or non-scheduled maintenance inspections.
Why use RVI for your aircraft engine borescope inspection?
We will travel worldwide with equipment to cover the most stringent and immediate requirements of our clients.
We own and use the latest Olympus Borescope System the IPLEX FX (6mm and 4mm) with Digital Stereo measuring capability.
We are leading the industry in respect of the equipment used, inspection techniques and DVD reporting. RVI Ltd have a capability that leading airlines and maintenance facilities yearn for.
We perform Borescope Inspections on most engine types in use today including auxiliary power units (APU's).
We perform all inspections as per client's instructions but always strictly in accordance with the aircraft's current maintenance manual or in certain cases the current engine manufactures maintenance/overhaul manual.
We will issue an EASA (single or dual release) Form 1 Release to Service Certificate for serviceable engines.
We will provide clients with an interactive DVD recording of the complete inspection, along with a detailed written report and digital images of any defects or damage found.
We will assess all defects and make recommendations with regard to serviceability and if required will liaise with the engine manufacturer's local representative on behalf of the client (you).
Remote Visual Inspections Ltd
EASA Approval UK.145.01009
FAA Approval RQ6Y406C
Contact us today at info@rvi-ltd.com or just fill out the form on the right if you would like to find out more about how our video borescope inspections could help you.